Free Shipping On Orders $65 And Up To Anywhere In The Continental US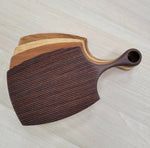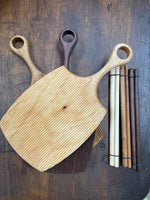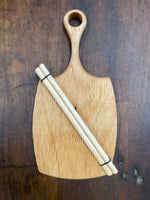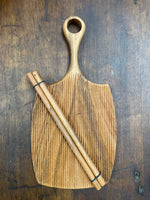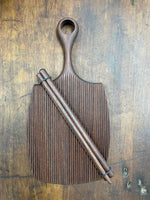 Heirloom Gnocchi Board
Regular Price

$125.00

Sale Price

$125.00

Regular Price

Unit Price

per
Each piece is designed and hand crafted by Rachel McClintock Fine Wood Working Shop, promising an originality often forgone by current trends. With the focus on precision, durability, and innovation, every element is carefully curated down to the hand-selected lumber chosen for each project.
5"×10.25"
**MADE IN SPRINGDALE, AR**
How do I care for my new gnocchi board?
After every use, gently scrub the board clean with a mild soap, rinse very quickly under warm water, and stand upright until totally dry. Do not let water pool for long and refrain from completely submerging the board during washings. Most importantly, never attempt to clean the board (or any wood product) in a dishwasher!
It's vital for cutting board longevity to "charge" it by replenishing its oil content and preventing the wood from drying out. For daily-use boards, lather with food-grade mineral oil weekly. Apply a thick and complete layer over all surfaces and leave it to set overnight. Wipe away excess in the morning with a clean, dry cloth. If there is not excess oil in the morning, your board hasn't received enough oil and it's recommended that you continue to oil the board to excess. When fully charged, the board will not be able to absorb any more oil.
Over the following days, you might find that the mineral oil continues to bleed from your board's surface. This is not a concern. Continue wiping away excess until you've reached the point of equilibrium.
To avoid or correct warping, store the board on edge when not in use and avoid using your board as a trivet as it is not designed for that purpose.
For more information, please reach out to:
contact@RMcClintock.com
If you have not been to the R McClintock Studio, we HIGHLY recommend you do:
105 Spring Street, Springdale, AR 72764
Showroom is open Tuesday—Saturday 11-6