Free Shipping On Orders $65 And Up To Anywhere In The Continental US.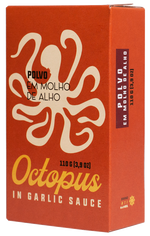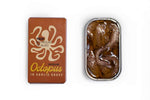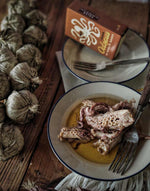 Ati Manel Octopus in Garlic Sauce
Regular Price

$11.99

Sale Price

$11.99

Regular Price

Unit Price

per
More garlic-infused olive oil than emulsified sauce, this tin of sweet, small, and tender tentacles is a shining example of octopus done extra right.

Modeling their recipe after Luís Mendonça's great-grandpa's original version, the can's contents are a culinary window into conserva's colorful past. Like all things octopus, crackers and pickled shallots will do them wonders, as will warming them up and tossing them (oil and all) with steamed baby potatoes and whole manzanilla olives.

TASTING: sweet, buttery, firm

PAIRING: dry white wines, bloody Mary, Guindilla peppers

INGREDIENTS: Octopus, Sunflower Oil, Garlic, Salt

CAUGHT IN: Galicia
A story told between snacks and business:
«The Octopus was lonely. Discreet and camouflaged, only once in a while he was visible: he painted sea water with his ink, to confuse those who pursued him. If they followed him, it was because they admired his qualities. Partnerships were constantly being proposed. And, among so many candidate partners, one day, the Octopus chose the garlic: he guessed good partners in them, with his feet on the ground in fertile ground. And it was garlic for an eye. And it was octopus eye for garlic clove. And garlic head for octopus heart and so on. It was an immediate success. Until today, society has been preserved and, today more than ever, everyone recommends it.